Menopause with Amanda is my holistic approach to helping ladies embrace their menopause.
If you are feeling out of sorts and struggling with life, whether it be in your personal life or career, I can help you manage your symptoms of menopause.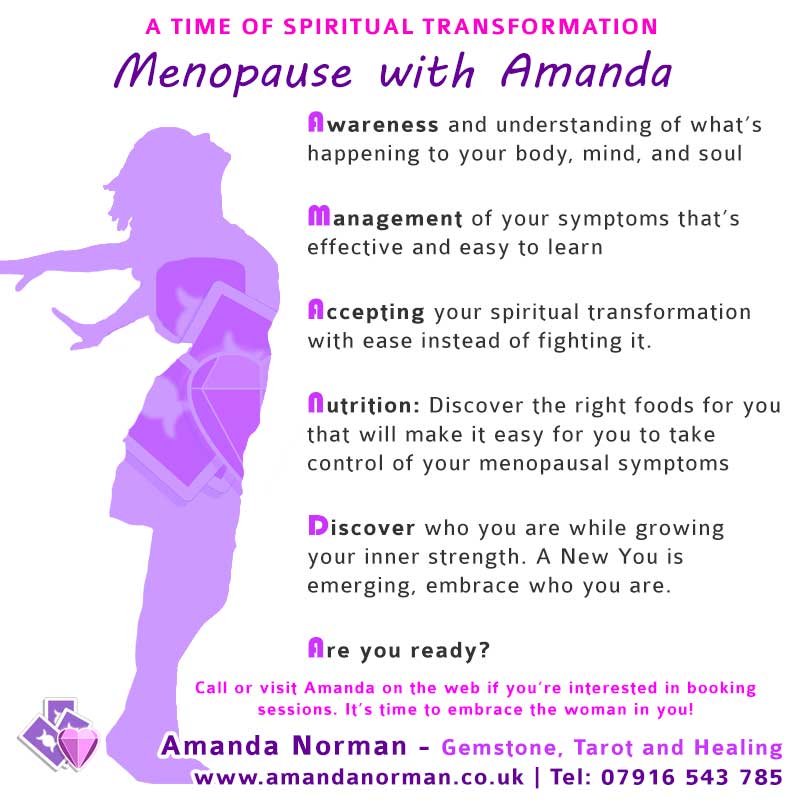 Perhaps you have not reached perimenopause stage however, you would like to prepare yourself for your spiritual transformation?
Whatever your reason for being here, right now, welcome to Menopause with Amanda.
Menopause with Amanda
From my own experiences of struggling with hormonal change, I have since found out that I did not need to needlessly suffer.
Anxiety, withdrawal from social life, hot flushes, pain, and a lack of sleep were responsible for making me feel low.
Unfortunately, my list doesn't stop there however, knowing some tips and techniques, allow you to manage your symptoms. In addition, they are easily learned. More importantly, they allow you to TAKE BACK CONTROL AND ENJOY YOUR TRANSITION!
Without a doubt, some of us find our menopausal journey to be soul destroying at times, especially if we try to resist what is a natural transition. Furthermore, it does not mean that your life is over!
Unfortunately, treating the topic of menopause as taboo and only speaking of it in a negative sense, simply does not help. Menopause does not need to be a ladies horror story.
Did you know that reaching menopause can allow you to be positively free?
Focusing on the positive aspects of reaching this stage in your life, will undoubtedly go along way to easing any suffering. Accepting what I see as a spiritual transformation, allows me to embrace menopause and live my life to the full!
You can too!
Working with Amanda
Reading my menopause therapy blog will show you that you are not alone.
With my experience and certification, together we can create your very own menopause toolbox to help you manage your symptoms. Furthermore, I will work with you to teach you exercises that are easy to learn, resulting in relief from various symptoms such as anxiety, stress, weight gain, hot flushes, pain management, and a lack of sleep.
If you are ready to work with me and embrace your menopause, speak to me today about my six-week programme.
Holistic Approach to Menopause
A holistic approach to Menopause is to explore natural methods of managing symptoms, often involving lifestyle changes on a mind, body, and soul level. Therefore it is important to note that you should always consult your health care advisor when discussing your health. The NHS has an excellent resource of information discussing all aspects of menopause.